CMC Markets

United States not accepted.
💵 Currencies

USD, EUR, GBP, AUD, SEK, PLN

🛠 Platforms

MT4

⇔ Spread

| | |
| --- | --- |
| GBPUSD: | 0.9 |
| EURUSD: | 0.7 |
| GBPEUR: | 1.1 |

# Assets

330+

🪙 Minimum Deposit

$0

🫴 Bonus Offer

-
Our Opinion On CMC Markets
CMC Markets is a top-rated forex broker with 330+ currency pairs and very low spreads from 0.0 pips. We especially rate the powerful trading platforms and loyalty scheme with discounts up to 28% on trading costs. Oversight from the FCA and ASIC also reassures us that the forex broker is trustworthy.
Summary
Instruments: 12,000+ including 330+ forex pairs, 8+ currency indices, 9,500+ shares, 80+ indices, 100+ commodities, treasuries, share baskets, ETFs
Live Accounts: CFD, FX Active, CMC Invest
Platforms & Apps: MetaTrader 4 (MT4), Next Generation
Deposit Options: Bank cards, bank transfers, PayPal
Demo Account: Yes
Pros & Cons
Pros
Beginner-friendly web platform with dozens of indicators and pattern recognition scanner
330+ currency pairs and indices available - more than any other forex broker
Authorized by tier-one regulators including the FCA & ASIC
Multiple base currencies available including USD, EUR and GBP
CMC Alpha program with discounts for active traders
Opening a new account takes less than 10 minutes
Excellent investment offering with 12,000+ assets
Hugely respected broker with 300,000+ traders
Best in class market research and education
Very tight forex spreads from 0.0 pips
Fast and fee-free deposits
$0 minimum deposit
Cons
Narrow range of payment methods
No weekend customer support
$10 inactivity fee after one year
US traders not accepted
Is CMC Markets Regulated?
We are happy with the high levels of regulatory oversight at CMC Markets.
The broker is regulated by the UK Financial Conduct Authority (FCA), Australian Securities & Investments Commission (ASIC), Canadian Investment Regulatory Organization (CIRO), and Monetary Authority of Singapore (MAS).
These are trusted regulators, ensuring various safety features are implemented to protect traders, including negative balance protection, segregated accounts, plus KYC and AML protocols.
Our team also did not find any evidence that the brokerage has been involved in scams or security breaches.
Forex Accounts
CMC Markets offers an excellent choice of account types, catering to different experience levels and markets. The solutions for active traders are particularly strong compared to rival forex brokers.
The main accounts for retail traders are CFD Trading, FX Active, and CMC Invest.
All accounts give traders access to thousands of assets, leveraged trading, the CMC Web Platform, MetaTrader 4, and have a low minimum deposit of $0, ensuring accessibility for all budgets.
CFD Trading
This is best for standard retail traders looking to speculate on popular financial markets.
Spreads are competitive, starting at 0.3 pips, with commissions only charged on shares.
Traders have access to both the Web Platform and MetaTrader 4.
FX Active
We recommend this account for high-volume forex traders.
Account holders benefit from ultra-tight spreads from 0.0 pips on popular forex pairs, low commissions, and a 25% spread discount on a further 300 currency pairs.
Again, traders have access to the full suite of trading software and tools.
Price+ & Alpha
For serious traders, the Price+ and Alpha programs offer further perks.
Price+ is a loyalty scheme that rewards active traders through tiered-volume discounts. Traders can earn points for every placed trade, increasing their total number of points and building the size of the discount they receive on spreads each month.
In our opinion, Price+ offers excellent value for high-volume forex traders.
| Tier # | Points Required | Discount |
| --- | --- | --- |
| Tier 1 | 0 | 0% |
| Tier 2 | 100 | Up to 6.7% |
| Tier 3 | 2,500 | Up to 14.3% |
| Tier 4 | 5,000 | Up to 20% |
| Tier 5 | 25,000 | Up to 28.6% |
Price+ Loyalty Tiers
The points available depend on the asset traded:
| Market | Volume | Points |
| --- | --- | --- |
| Forex | 0 | 2 |
| Currency Indices | 100 | 6 |
| Shares | $10,000 | 3 |
| Share Baskets | $10,000 | 3 |
| Indices | $10,000 | 3 |
| ETFs | $10,000 | 3 |
| Commodities | $100,000 | 2 |
| Treasuries | $100,000 | 5 |
Price+ Reward Points
Alpha is CMC Markets' premium membership. Traders who deposit a minimum of $25,000 can join a community of traders receiving exclusive benefits.
Alpha members are automatically given Price+ Tier 3 access, receiving spread discounts of up to 14.3%.
Traders can also get up to 3% interest on the equity in their accounts. The interest is calculated daily and paid into the account at the start of the following month.
3% interest for USD
2% interest for GBP
Another useful perk Alpha members receive is a premium subscription to the Financial Times.
CMC Invest
CMC Invest is a long-term investment solution with a General Investment Account and a Flexible Stocks & Shares ISA, comparable to IG Index.
These accounts give traders access to over 3,500 instruments, with zero commissions and interest up to 2% on uninvested cash.
It is good to see that longer-term investing is available at CMC Markets, which we think gives the broker a competitive edge.
How To Open A CMC Markets Account
I found the account sign-up process straightforward. It took me less than 10 minutes to follow these steps:
Fill in the details for your account (email address, password, trading platform)
Choose the account type
You will be emailed a verification code
After filling in the code, you will be redirected to your demo trading account (and emailed the account details)
From the demo account, you can open a live account:
Click the 'My Accounts' tab and press the 'Apply Now' button
Choose your live account type
Provide information about your trading experience, investments, risk tolerance and goals
After completing the form, you will be able to fund your account and start trading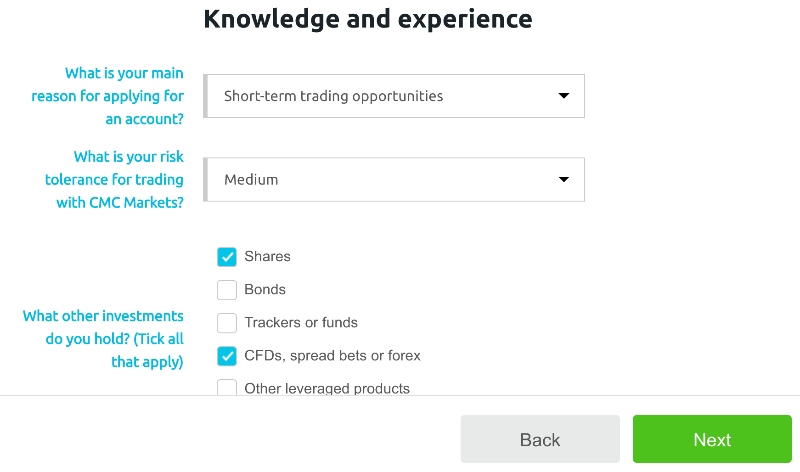 Trading Fees
We have tested hundreds of forex brokers and CMC Markets offers competitive fees, especially for forex.
While using the standard CFD account, spreads on the EUR/USD came in at 0.5 pips, the EUR/GBP was 0.8 pips and the GBP/USD was 0.9 pips. These are all lower than the industry average.
Fees on other products were competitive too, with a 1.0 spread on the FTSE, 2.0 on Brent Crude Oil, and 0.2 on Gold.
Commissions for stock CFDs are also in line with other low-cost brokers, coming in at $0.02 on US shares and 0.10% on UK shares.
Non-Trading Fees
As we expected, there are several non-trading fees:
Overnight holding costs (swap fees) are applied on positions held overnight (past 5:00 pm New York time / 10:00 pm GMT). The direction of the trade determines whether we receive or pay the fee. If it is a buy position, then we will be charged the fee. Alternatively, if it is a sell position then we will receive the fee.
Rollover costs apply if you are looking to keep a trade open beyond its expiry date. Executing a rollover causes your profit or loss from the original contract to be realized and a new contract to open at the mid-price, reducing the spread cost by 50%.
We also find that some CFD instruments require traders to pay market data fees to receive relevant price data. These subscriptions are usually charged monthly and depend on the market data subscription required for the underlying asset.
Inactivity fees of $10 are charged monthly on accounts that have been inactive continuously for one year or more, which we think is reasonable, considering many brokers charge after a much shorter period of inactivity.
Guaranteed stop-loss orders are given by the premium rate multiplied by the trade size. However, if the guaranteed stop-loss is not triggered then the charge is fully refunded to the trader.
Payment Methods
CMC Markets trails other brokers when it comes to funding methods with just credit/debit cards, bank transfers, and PayPal support.
We appreciate that the broker does not charge for deposits or withdrawals, though international transfers may come with a fee depending on the account and country.
Payment timelines are in line with other brokers. Card and PayPal deposits are usually completed on the same day, though not instantly, which is a shame. Bank transfers should also be completed on the same day unless performed after 6:00 pm, where they will be processed on the next business day instead.
Card withdrawal processing times vary by the card issuer. Some may be able to process withdrawals within an hour while others could take up to 5 business days. PayPal withdrawals typically take 1-2 business days.
Domestic bank withdrawals typically take 1-2 business days while international bank withdrawals take 3-5 business days. Again, these are industry standard.
How To Make A Deposit
The account funding process at CMC Markets is fast and secure:
Log into your CMC Markets account
Open the account tray and click on the 'Funding' tab
Click the 'Add Funds' option and press 'Continue'
You can now choose your funding method
Continue and choose how much you would like to deposit
Fill in the details of your deposit method (card number, etc.)
Submit the payment request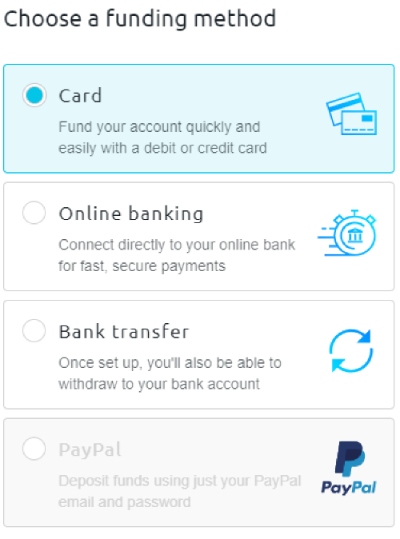 Forex Assets
With 330+ forex pairs and custom indices, CMC Markets offers more currency assets than every other broker we have tested.
Traders can speculate on major pairs like GBP/USD, USD/JPY and EUR/USD; minor pairs like GBP/CAD, NZD/CAD and CHF/JPY; and plenty of exotic pairs like USD/CZK, EUR/TRY and USD/NOK.
We particularly rate the currency indices. These allow traders to gain exposure to multiple currencies in one package, reducing the risk exposure of speculating on a single forex pair. Available currency indices include the CMC USD Index, CMC GBP Index, and CMC JPY Index.
You will struggle to find a broker that offers more forex trading opportunities than CMC Markets.
Non-Forex Assets
CMC Markets also stands out for its huge selection of non-forex assets, providing portfolio diversification opportunities.
As well as short-term trading opportunities through CFDs, longer-term investors can directly buy and sell shares through CMC Invest.
There are over 12,000 assets spanning multiple classes:
Shares – 9,000+ stocks including popular companies like Tesla, Apple, Lloyds, Meta and Boeing
Share Baskets – Themed baskets of equities, including Gaming, Banks, Renewable Energy, and Driverless Cars
Indices – Over 80 cash and forward indices, including the NASDAQ 100, S&P 500, FTSE 100, DAX 40, and ASX 200
ETFs – Over 1,000 ETFs, including Vanguard Health Care, SPDR Portfolio Europe, and Invesco S&P 500 Eql Wght
Commodities – Over 100 commodities, including popular assets like Gold, Brent Crude Oil, Natural Gas, and Copper
Rates & Bonds – Over 50 rates & bonds, including US T-Bonds, Euro Buxl and UK Gilts
Execution
CMC Markets is a market maker. The broker acts as the sole execution venue, not operating on an order book.
Importantly, our team finds that automated execution on Next Generation reduces execution times, with fast speeds of 4 ms. Furthermore, fill rates are impressive, coming in at 99.7%.
Leverage
CMC Markets offers leverage trading in line with respective regulatory requirements.
This means retail traders from the UK, EU and Australia can access leverage up to 1:30 on forex, while professional traders can access higher leverage up to 1:500.
CMC Markets has a maintenance margin (stop-out) level of 50%. Positions that fall to 80% will trigger a margin call.
Platforms & Apps
CMC Markets ranks highly for us in terms of trading platforms, with both a proprietary web solution, Next Generation, and a leading third-party terminal, MetaTrader 4 (MT4).
Both platforms are accessible on web browsers and mobile devices. MetaTrader 4 can also be used through a downloadable desktop application.
Importantly, upon testing the solutions, performance is high. Both terminals achieve almost 100% core platform uptime, meaning the stability of both platforms is very high. And with near 100% fill rates, there are no off-quotes.
Next Generation
I would recommend the Next Generation platform if you want a web platform that you can quickly start trading on.
The interface is easy to navigate with customizable widgets and a powerful suite of technical analysis tools. There are 115+ technical indicators, 12 chart types, and pricing from 14 tier-one liquidity providers.
However, the two features I find especially useful are the integrated news and analysis from Reuters and the pattern recognition scanner to help uncover market opportunities.

On the negative side, I do find the look of the terminal somewhat outdated compared to the modern feel of in-house platforms from alternatives like eToro, but this is a minor complaint.
MetaTrader 4
For those looking for a more established platform, MetaTrader 4 (MT4) is the gold standard for forex trading software.
With rich customization, an extensive library of trading tools and the MQL4 programming language to build your own bots and plug-ins, MT4 will meet the needs of active forex traders.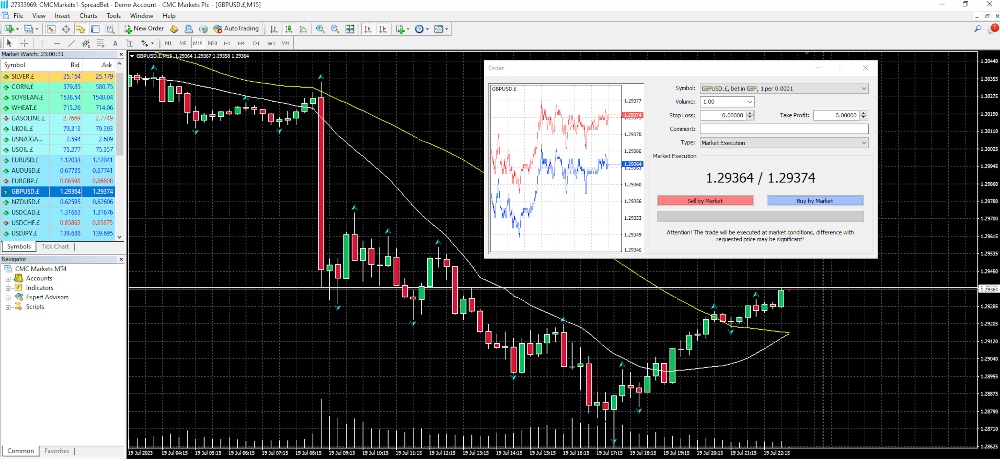 You get 30 technical indicators, 31 graphical objects, 9 charting timeframes, 4 order types, and support for automated trading through Expert Advisors (EAs).
CMC Markets also offers premium indicators and Expert Advisors at no extra cost. These include 15 additional indicators, a mini terminal, a trade terminal, an alert manager, and a correlation matrix.
My only gripe is the reduced market access. 175 forex pairs are available on MT4, alongside indices and commodities.
How To Make A Forex Trade
The process to open a forex trade on both platforms is intuitive:
Log into your chosen trading platform
Choose the forex asset you would like to trade
Perform your analysis to find the best time to trade
Click the Buy/Sell button on Next Generation, or the New Order button on MT4
Input the details of your order (volume, stop loss, take profit, order type)
Click the Buy/Sell button to submit the order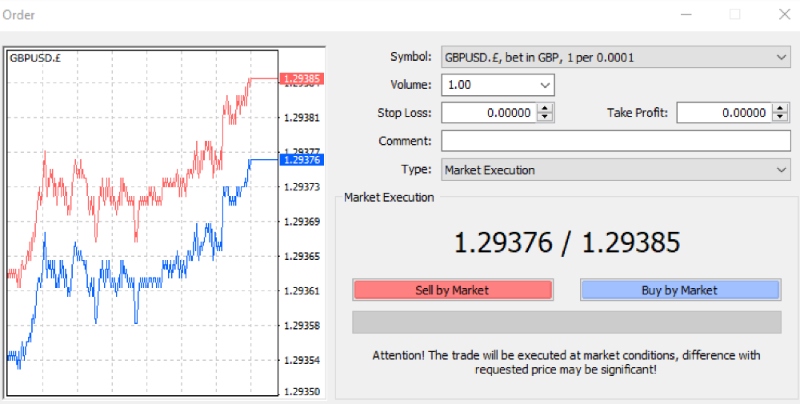 Forex Tools
For those using the Next Generation platform, there are several excellent features on offer.
One of my favorites is the client sentiment feature, which shows the percentage of CMC Markets traders placing orders in each direction.
This allows you to get a feel for the general direction the asset price could move. Furthermore, the broker also specifies the direction the most profitable traders are placing their orders in.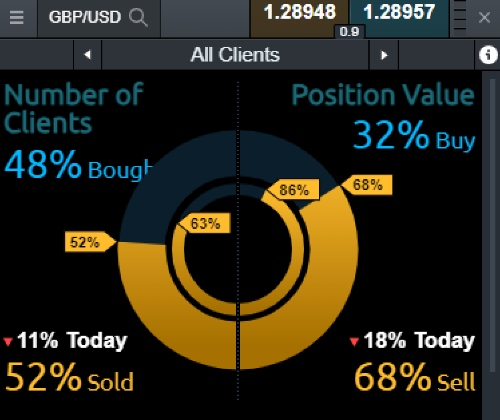 I'm also able to take advantage of some decent customizable platform layouts. These allow me to easily create and save layouts and quickly hot-swap between them. For example, a trader could create a forex-focused layout designed to make trading currencies easier.
A pattern recognition tool is also offered, scanning over 120 of the broker's most popular assets to find rising patterns. The benefit of this is that you are alerted to potential trading opportunities, even if you are not currently charting that particular asset.
I especially like that this feature also creates a price projection box, as well as backtesting capabilities to compare the current performance with past patterns.

Forex Research
The market research and news section at CMC Markets is comprehensive and competes well with similar brands.
The news tab features daily articles covering a range of topics. These include reports on inflation, country GDP and individual company accounts, as well as earnings calendars, market performances, professional trader sentiment, and speculative content.
My favorite feature is Opto, an investment magazine offering daily insights, thought pieces and expert-led podcasts covering a range of topics. This is in addition to the reports and analysis provided by Reuters within the Next Generation platform.
Even better, Alpha members are given a complimentary Financial Times premium subscription.
These news sources are impressive when compared to other forex brokers that we test. Many alternatives only provide their own source of news or partner with one additional provider to provide content.
Forex Education
There is a broad selection of learning materials suitable for newer traders and more seasoned investors.
Beginner-focused articles, guides, videos and podcasts are available in the CMC Markets Learn Hub. Topics and guides are detailed, covering the basics of how to trade different types of assets, beginner-friendly trading strategies, how to use the different platforms and strategy tips.
For more experienced traders, premium resources are available, tackling advanced strategies, technical analysis tutorials, advanced Opto podcast sessions and webinars.
I like that there are also regional seminars and tailored events, which are ideal for those looking for more specialized education.
Demo Account
Traders looking to practise their strategies and browse the broker's platforms will be pleased to see a free demo account.
The demo account gives traders access to the full suite of trading products with $10,000 in virtual funds.
The demo account has no expiry, which is important for me as it means I can test strategies in practice mode alongside a real-money account.
The only drawback is that the additional market data is available on a limited trial basis, although this won't be a major issue for most traders.
How To Open A Demo Account
Opening a CMC Markets demo account only takes a couple of minutes:
Go to the CMC Markets website
Click the 'Open a demo account' button
Select the details for your demo account (email address, password, trading platform)
Verify your account using the code sent to the email address you provided
Log in and start trading with virtual funds
Bonus Offers
Similar to most heavily regulated brokers, CMC Markets does not offer a welcome bonus.
Regulations against such incentives are designed to protect traders, which we can't fault.
Trading Restrictions
We are pleased to see that CMC Markets does not place any restrictions on trading setups.
Scalping and hedging strategies are permitted. Algorithmic traders are also supported.
Customer Service
CMC Markets offers several reliable contact methods, available 24/5.
All the traditional avenues are offered, including direct contact with the head office or international offices, plus a contact phone number and email. There is also a helpful live chat within the Next Generation trading platform.
Contact Phone Number: +44 (0)20 7170 8200
Email Address: clientmanagement@cmcmarkets.co.uk
Head Office: CMC Markets UK plc, 133 Houndsditch, London, EC3A 7BX
Importantly, we tested the customer support and found responses are generally very timely, clear and helpful. We submitted five queries at multiple times of the day via email and received responses within half an hour of each submission.
As such, we consider the customer service of CMC Markets to be some of the best we have come across.
Company Details
CMC Markets is a well-established brokerage with a strong track record.
The company was founded in 1989 by founder Peter Cruddas. It started in London as Currency Management Corporation, later shortened to CMC, before launching as the world's first online retail forex trading platform in 1996.
CMC Markets began expanding overseas in 2002, starting with Sydney and has since opened 14 offices.
The broker's Next Generation platform was launched in 2010, winning multiple awards by 2014.
The company was listed on the London Stock Exchange as CMCX in 2016 and was included in the FTSE 250 index that same year.
CMC Markets has garnered over 300,000 clients worldwide in its 30+ years of operation.
It is also not surprising to see that the broker has won many awards, including the No. 1 Web-Based Platform and the Best Spread Betting Provider.
Trading Hours
Trading hours vary by asset and are in line with most other brokers.
Many instruments are only tradable when their underlying exchanges are open. For example, Apple shares can only be traded when the NASDAQ exchange is open (2:30 pm to 9:00 pm GMT).
Forex can be traded 24 hours a day from 5:00 pm Sunday to 4:00 pm Friday (GMT), making it a very versatile asset class.
Market closures and holidays are detailed for each exchange on the CMC Markets website.
Who Is CMC Markets Best For?
We recommend CMC Markets for active forex traders. The broker offers more currency assets than any other brokerage, very tight spreads from 0.0 pips, and a loyalty program that offers substantial discounts on trading fees.
Newer traders are also well served by CMC Markets. There are excellent educational resources, an unlimited demo account, a low minimum deposit and a user-friendly web platform.
Robust regulation and 14 international offices also make CMC Markets one of the most globally accessible forex brokers on the market.
FAQ
Is CMC Markets Legit Or A Scam?
We consider CMC Markets a legitimate forex broker. The brand is very well regarded and is regulated by multiple financial bodies.
The 300,000+ client base is also a reassuring sign that the company is reputable.
Can I Trust CMC Markets?
We consider CMC Markets a trustworthy forex broker with competitive trading conditions, multiple safety measures and robust regulatory oversight.
Is CMC Markets A Regulated Forex Broker?
Yes, CMC Markets is regulated by several respected bodies. These include the FCA in the UK, the ASIC in Australia, the CIRO in Canada and the MAS in Singapore. These are all well-regarded regulators that add to the broker's credibility.
Is CMC Markets A Good Or Bad Forex Broker?
CMC Markets is a very good forex broker, offering over 330 currency pairs, among thousands of other assets, with competitive spreads and 24/5 market access. The broker caters to all experience levels, with comprehensive, tailored research and education, plus attractive perks for high-volume traders.
Is CMC Markets Good For Beginners?
CMC Markets is a great option for beginners with a huge range of educational resources, from introductions to financial markets to complex technical analysis guides.
The broker also offers a decent demo account with $10,000 of virtual funds to practise in either of the trading platforms. In addition, the $0 minimum deposit makes it accessible for traders on a budget.
Does CMC Markets Offer Low Forex Trading Fees?
CMC Markets offers very competitive spreads and low to zero commissions depending on the account type. When we tested the broker, spreads on major forex pairs like the EUR/USD started from 0.5 pips, which is lower than most alternatives.
Furthermore, high-volume forex traders can further reduce the spreads offered through the Price+ scheme with discounts up to 28.6%.
Does CMC Markets Have A Forex App?
Traders can access their trading accounts and place orders through the CMC Markets mobile app or the MetaTrader 4 mobile app. Both trading platforms are available on iOS and Android devices and offer a stable environment for trading currencies on the go.
How Long Do Withdrawals Take At CMC Markets?
Withdrawal times depend on the funding method. Card withdrawals can take anywhere from 1 hour to 5 working days. Domestic bank withdrawals typically take between 1-2 business days, while international bank transfers can take between 3-5 business days. PayPal transfers are usually processed within 1-2 business days.
Whilst these aren't the fastest withdrawal times, they are in line with most forex brokers.
Can You Make Money Trading Forex With CMC Markets?
CMC Markets offers competitive fees and a huge range of resources to help forex traders make informed trading decisions.
With that said, profits are not guaranteed and employing a robust risk and money management strategy is key to helping minimize losses.