Pocket Option
💵 Currencies

USD

🛠 Platforms

MT5

⇔ Spread

| | |
| --- | --- |
| GBPUSD: | N/A |
| EURUSD: | N/A |
| GBPEUR: | N/A |

# Assets

50+

🪙 Minimum Deposit

$50

🫴 Bonus Offer

50% Deposit Bonus
Our Opinion On Pocket Option
Pocket Option is a leading binary options broker and for good reason – we are impressed with its high payouts, especially for forex pairs, plus its support for tools such as copy trading. We also rate the low minimum trade size of $1, which makes this broker an excellent choice for beginners who want to get started with binary options trading. Its weak regulatory oversight is our only major criticism.
Summary
Pros & Cons
Pros
Competitive payouts up to 92%, with triple-digit returns using Express Trades
Easy-to-use trading platform and mobile app with technical indicators and customizable charts
Huge range of funding options including wire transfer, credit/debit cards and cryptocurrencies
Tiered-account system with attractive loyalty perks, including higher payouts and faster withdrawals
Over 50 forex assets including majors, minors and exotics
Free demo account with no registration requirements
Copy trading service with no minimum investment
Low minimum trade of $1 for beginners
Turbo contracts from 5 seconds
Cons
Proprietary platform lacks the advanced technical analysis features of software like MetaTrader 4
Not suitable for longer-term traders with maximum 4 hour contract expiry
Unregulated broker with limited legal oversight
Mediocre education and market research
No 24/7 customer support
Is Pocket Option Regulated?
Pocket Option is the trading name of Infinite Trade LLC. The brand is registered in the Republic of Costa Rica but is not regulated by any financial watchdog.
This is not unusual for binary options brokers, since this financial product has been restricted by many regulators, and despite the lack of regulation, we see Pocket Option as a popular and reliable broker.
However, we do think many traders will justifiably see this status as a big disadvantage as it removes significant protections if the business faces financial difficulties. Leading authorities, including the UK Financial Conduct Authority (FCA) and US Securities & Exchange Commission (SEC), impose strict measures for registered brokers, including the requirement of segregating client funds from business money and providing negative balance protection for retail traders.
Having said this, Pocket Option does comply with anti-money laundering and know-your-customer policies, which aim to prevent fraudulent activities in the financial markets.
Our team's research was also pleased to see no major hacks or scams on Pocket Option's track record.
Accounts
We were not offered a choice of live trading accounts when we used Pocket Option. With that said, we do appreciate the tiered system based on trading activity that can unlock rewards if certain conditions are met. This is a great perk for active traders who can get better payouts and faster withdrawals.
The standard account has a minimum deposit requirement of $50, which we think is reasonable. It is higher than some alternatives, including IQCent ($20) and Deriv ($5), but still low enough to make the binary options broker accessible for beginners.
Our team have pulled out the key features and differences between the account tiers:
Newbie
Account balance less than $100
Maximum trade size $1000
Unlimited number of open trades
Access to live chat, gifts and social trading
Beginner
Minimum account balance of $100
Maximum trade size $1000
Unlimited number of open trades
Access to live chat, gem lottery, gifts, express trades, gifts, and social trading
Experienced
Minimum account balance of $1000
Maximum trade size $1000
Unlimited number of open trades
MT5 access for forex trading
Increased payout percentage by 2%
Access to live chat, gem lottery, premium gifts, express trades, gifts and social trading
Master
Minimum account balance of $5000
Maximum trade size $2000
Unlimited number of open trades
MT5 access for forex trading
Withdrawal processing priority
Increased payout percentage by 4%
Refunds up to $10 for 1 pip trade difference
Access to live chat, gem lottery, premium gifts, express trades, gifts and social trading
Pro
Minimum account balance of $15,000
Personal account manager
Maximum trade size $3000
MT5 access for forex trading
Withdrawal processing priority
Increased payout percentage by 6%
Unlimited number of open trades
Refunds up to $50 for 1 pip trade difference
Access to live chat, gem lottery, premium gifts, express trades, gifts and social trading
Guru
Minimum account balance of $50,000
Personal account manager
MT5 access for forex trading
Maximum trade size $20,000
Increased payout percentage by 8%
Unlimited number of open trades
High-priority withdrawal processing
Access to a larger list of technical indicators
Refunds up to $100 for 1 pip trade difference
Access to live chat, gem lottery, premium gifts, express trades, gifts and social trading
How To Open A Live Account
We found it easy to sign up for a Pocket Option account. It only took a few minutes, though we recommend having proof of residency and ID documents to hand to speed up the process.
To get started:
Add your email address and create a password in the registration section
Alternatively, you can sign up with your Facebook or Google account
Review and confirm the T&Cs and select 'Sign Up'
Select the 'Top Up' icon to deposit funds to your trading account
You will be prompted to upload your identity documents to proceed
Submit the requested documentation and wait for your account to be activated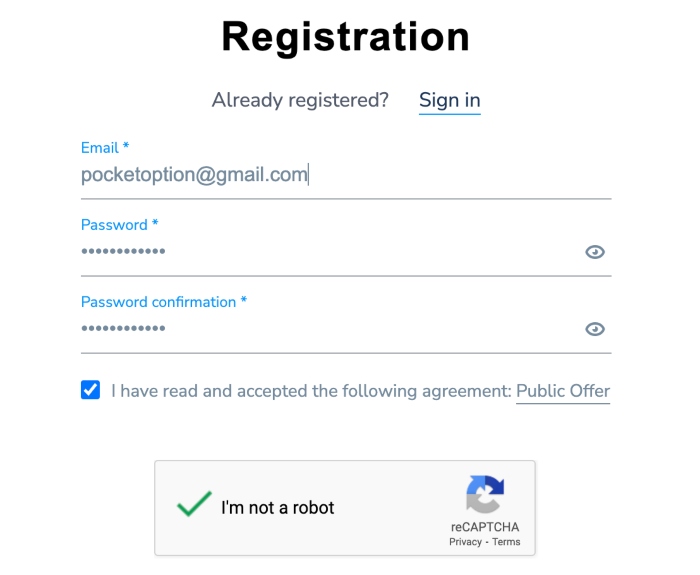 Trading Fees
Pocket Option is transparent about its trading fees, which like most binary options brokers is based on an all-or-nothing model rather than a direct commission.
Binary options are among the simplest trading products, and involve a straightforward bet on whether an asset's price will go up or down over a specified timeframe, and the payouts are the same regardless of the extent of the price movement.
Pocket Option will retain the full stake from clients' unsuccessful trades while offering a percentage of the stake for a successful trade. In other words, if you open a $1000 binary options trade with a payout of 90% betting that Apple's price will increase in one hour, you will lose $1000 if the price falls, and receive your original stake back plus $900 profit if it rises.
Pocket Option Payouts
We have tested dozens of binary options brokers and Pocket Option offers competitive payouts up to 92%. This trumps rival brokers like Dukascopy (90%) and GC Option (86%), though it is lower than IQCent (98%).
We especially like the Express Trades function, which can net triple-figure payout returns from a good trade. This is a standout feature for us that can seriously magnify returns.
Importantly, our team found that payouts vary depending on the underlying asset and market volatility. This is standard in the industry, but we have pulled out the percentages we got when we used Pocket Option:
Mcdonald's stock – 92%
Netflix stock – 88%
Amazon stock – 85%
AUS 200 index – 67%
EUR/GBP forex pair – 78%
Gold – 80%
Natural Gas – 45%
Bitcoin – 15%
Ethereum – 40%
Timeframes
Pocket Option is best for short-term binary options traders, with turbo contracts with an expiry time as low as five seconds, through to a maximum contract length of four hours.
While this will serve active day traders, we miss the option for longer-term trades of at least a day, as these cater to diverse trading strategies and can be the best way to cut through market noise.
We also note that some rivals, such as BinaryCent and RaceOption, offer expiry times of up to a month. These are better options if you want to trade over the mid to long-term.
Non-Trading Fees
Our team are confident that users will not find unexpected non-trading fees cutting into their profits when trading with Pocket Option, and this makes the broker a great choice for traders on a budget.
There are no inactivity charges, and traders also have the advantage of commission-free deposits and withdrawals. Trading tools such as robots are also offered with no additional fees.
Payment Methods
Pocket Option stands out for its wide selection of deposit methods, with 100+ accessible solutions. This makes it easy and convenient for global traders to load their accounts and start trading binaries.
Accepted payment methods include cryptocurrencies, PayRedeem, WebMoney, Perfect Money, and PayCash. There are plenty of options for bank transfers, e-wallet solutions, or mobile transactions. Credit/debit card payment options are not listed on the broker's website, but we can see these within our client portal.
Processing times will vary by method, though the majority will support instant funding. We are also pleased to see the broker does not charge commission fees on any method.
The one limiting factor we encounter is that Pocket Option only accepts fiat deposits in USD. This means traders may incur conversion fees and managing accounts is less convenient if you are used to trading in EUR or GBP, for example.
It is also worth noting that account verification is mandatory before deposits are accepted. The time taken for approval will vary depending on adherence to KYC and AML, though it averages a few working days, which is in line with competitors.
Importantly, withdrawals must be made back to the original payment method. Again, this is standard.
Processing times vary but we found e-wallet solutions offer the quickest processing times, and bank wire transfers from three days.
There is a very reasonable minimum withdrawal limit of $10 and we did not find any maximum which is good to see.
How To Make A Deposit
I think the account funding process is intuitive. It only takes me a couple of minutes to navigate to the cashier portal and complete the required steps:
Login to the Pocket Option client dashboard
Select 'Finance' from the side menu and then click the 'Deposit' icon
Choose a payment method from the listed logos, or use the search bar to find (in this example we use credit/debit card)
Manually type the amount to deposit or choose from the available options
Add a promo code if applicable. Note that any applicable bonus codes will be automatically entered for new customers
Select 'Continue'
Add your payment details on the following screen and select 'Continue'
Review the transaction and confirm the payment by selecting 'Submit'
Forex Assets
Pocket Option offers over the counter (OTC) and binary options trading on 50+ major, minor, and exotic currency pairs.
This is a competitive number of assets for a binary options firm – especially vs Nadex (11) and Videforex (25+). It does fall well below IQ Option (100+), though we think 50 is enough for most traders who are not seeking specific minor and exotic pairs.
Popular forex assets with the highest payouts include:
EUR/USD – 92% payout
AUD/CAD – 92% payout
AUD/CHF – 92% payout
EUR/GBP – 92% payout
EUR/HOF – 91% payout
NZD/JPY – 80% payout
EUR/CHF – 87% payout
USD/JPY – 79% payout
Non-Forex Assets
Pocket Option also provides binaries on a range of alternative asset classes, which while not very extensive does include popular instruments such as Bitcoin, blue chip stocks, and the US 100 index.
We think this is enough to provide flexibility and diversity for forex traders, though we would have liked to see a more extensive list of stocks, in particular.
Popular non-forex assets include:
9 cryptocurrency tokens such as Bitcoin, Ethereum and Dash
14 major global index funds such as S&P 500, FTSE 100 and AUS 200
7 precious metal and energy commodities such as Gold, Brent Oil and Natural Gas
17 global company stocks including American Express, Johnson & Johnson, Netflix and Tesla
Execution
We found Pocket Option's trade execution model to be very straightforward, and you have the opportunity to profit every five seconds from the fastest turbo contracts.
As a binary options broker, the brand does not follow standard STP or ECN order execution. In fact, the process for executing a trade is even more straightforward:
Choose an asset class (forex, commodities, indices, stocks or cryptocurrency)
Find the specific asset you wish to open a binary options contract on
Input an investment amount (from just $1)
Choose a timeframe and predict whether the price of the instrument will rise or fall
Review the potential payout
Confirm the trade and receive a profit if successful
Leverage
We were not offered any leverage while using Pocket Option, and this is typical of binary options brokers due to the way these trades work. Since the payouts are predetermined and do not typically change regardless of the extent that prices move, leverage would have less impact.
Having said that, the Express Trade tool, which we unpack below, provides the opportunity to boost payout potential.
Platforms & Apps
Pocket Option traders monitor markets and place trades through a bespoke trading platform that we find straightforward to navigate and use, with nothing standing out as too complex.
The platform is not as advanced as some other interfaces such as MetaTrader 4 (MT4) or MetaTrader 5 (MT5), though it does offer 14 chart time frames from 5 seconds to 1 day, 31 technical indicators, and 9 drawing tools including Fibonacci Fans, Parallel Panels, and Andrew's Pitchfork.
You can also view up to 4 charts at a time, which we find a very helpful way to view trend patterns and asset comparisons.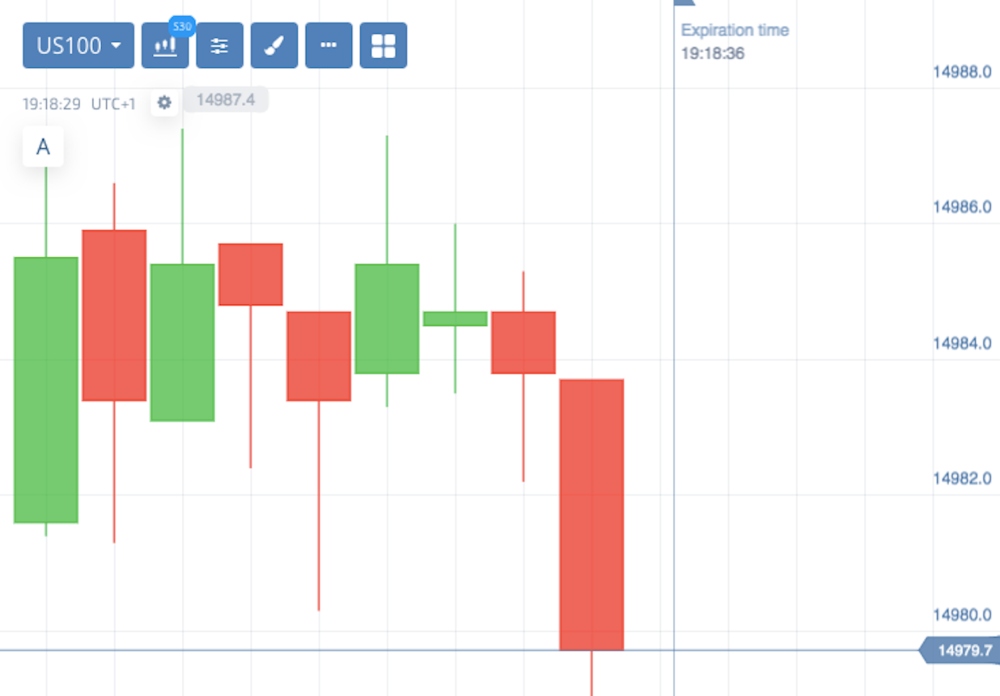 You can use the platform as a web-based terminal for all major browsers. It has automatic conversion from the Pocket Option website.
We were not offered any desktop app software for either Windows 10 or Mac. However, the Pocket Option terminal is also available as a mobile app, supported on iOS and Android (APK) devices. You can download these for free via the Apple App Store or Google Play.
We tested the application and did not experience any glitches; we were impressed by the app's seamless integration with the desktop options. We also think it is great to see all the advanced features such as signals and copy trading available on mobile too.
How To Open A Trade
I didn't have any issues placing a trade on the Pocket Option platform – the process is fast and easy for new traders:
Choose an asset to trade from the dropdown menu on the top left of the chart
Use the order screen to select a trade expiration time by selecting the flag icon at the top
Add an investment value using the toggle icons or clicking on the value to input manually
Review the payout percentage and profit potential
Choose 'Higher' if you think the asset price will rise, or 'Lower' if you think it will drop

Forex Tools
Pocket Option provides a good array of trading tools to help traders execute their best forex trading strategy. We think its trading bots and copy trading features are particularly welcome additions that bring great value to traders.
Bots
Pocket Option offers trading bots which can be used to automatically execute orders on your live trading account according to criteria that you set.
We like the simplicity of the auto trade robot and the quirky method of adjusting settings and programming the bot through the chat messenger. There are no complex software download requirements.
To start using a trading bot:
Select 'Signals' from the menu on the right of the trading platform interface
Choose the execution timeframe and select 'Telegram Bot' to subscribe
In the app screen pop out, select 'Send Message'
In the following screen, you can add the custom settings including the trade value, minimum payout requirement and signal accuracy
Adjust the value limits for the automatic trade placement
Click 'Start' to begin the bot's operations
Copy Trading
The copy trading functionality is another feature at Pocket Option that we rate highly, as it allows time- or experience-poor traders to duplicate the positions of skilled investors.
We are impressed to see no minimum investment amount, as alternative brands often require a minimum of $100 to access copy trading.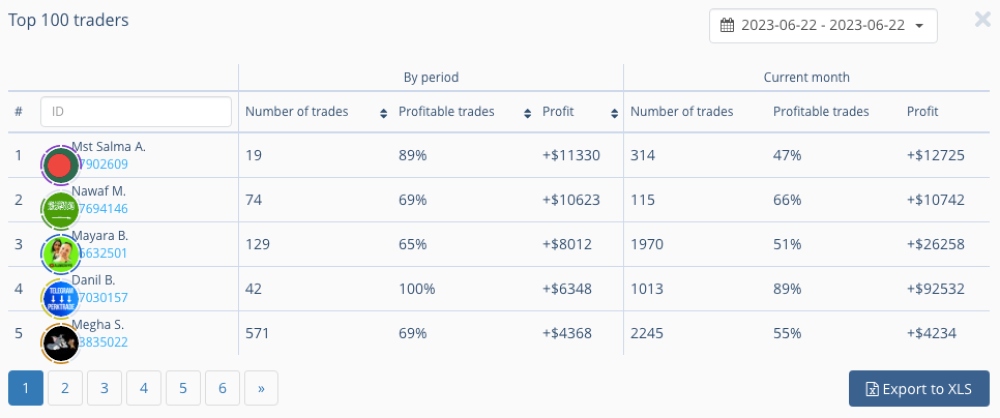 We find it easy to both research the past performance of listed users and to start copying positions. To top it off, this feature is also available in demo mode, allowing careful traders to get to grips with copy trading and observe traders' ongoing performance before they risk real cash.
You can also use Pocket Option signals, which provide position opening and closing suggestions, for more profitability. On the negative side, we did find there is a minimum trade size of $100 which makes this somewhat less accessible than copy trading.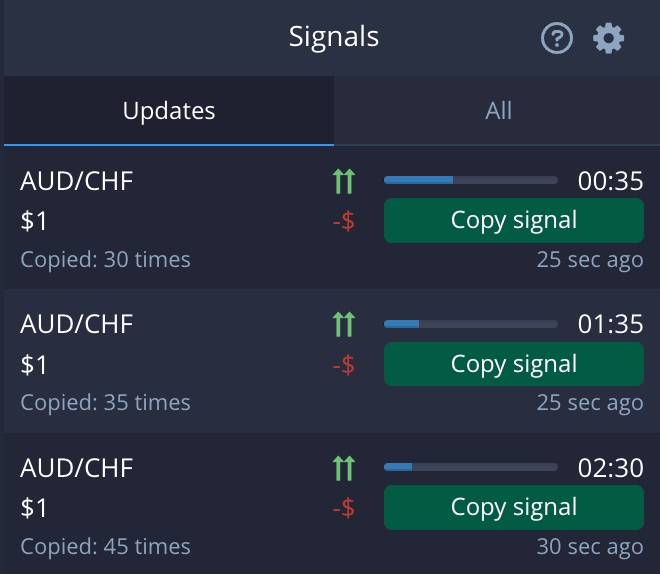 Express Orders
While using the Pocket Option platform, we were offered an Express Trade tool, and we quickly became converts to this innovative feature – this broker was the first in the world to launch it.
Simply explained, the concept involves two or more trade binary options being applied at a time, with their relevant payment ratios multiplied, for even bigger returns.
For example, if you want to trade the GBP/USD currency pair with a payout ratio of 90% and Tesla stock with a ratio of 80%, your Express Trade potential payout would be 342% (1.90 x 1.80) if both trades come off.
Now, this does raise comparisons to accumulator bets offered by bookmakers, but we are reassured to find that traders don't need both predictions to come off since Pocket Option offers a partial profit guarantee if just one forecast is successful.
Forex Education And Research
Pocket Option offers an average selection of educational content and resources, covering the basics and some advanced trading strategies. Ultimately though, it is better for newer traders – seasoned traders can find better market research from third parties.
Materials on offer range from platform user guides to a forex keyword glossary and video tutorials. We appreciate the 'tips and tricks' section with expert advice on how to get the most out of trading and how to use the platform correctly. This includes details of 30-second and one-, two-, and three-minute Pocket Option strategies.
Other strategies covered in Pocket Option's trading strategies library include the zig-zag strategy, the candlestick engulfing strategy, and the level breakout approach.
For beginners, we recommend working your way through the 'forex tutorial & glossary' section, with the top categories the most suited to novice investors.
Demo Account
Pocket Option offers a free demo account available for prospective customers to trial the proprietary software and mobile app.
Demo accounts are among our top priorities when testing brokers, and we often urge traders to try before they buy if they have the chance – particularly when dealing with a broker like Pocket Option where trades are executed on a proprietary platform.
You can practice opening and closing positions with a $10,000 virtual balance and explore all the features of the platform with no risk. We like that real pricing is provided, including payout percentages, so you can get a feel for trading in live conditions.
There are no registration requirements to access the platform in demo mode. Click on 'Free Demo' from the header of the broker's website to access. From here you can also register and sign in to a live account when you feel ready.
Pocket Option Bonus
Pocket Option frequently offers bonus incentives, including promo codes.
When we signed up, we were offered a 50% welcome bonus if we added more than $50 to a live account. However, we did not find any terms and conditions documents or rules so it is unclear what the eligibility requirements are and if there are any promo withdrawal terms. The reward was provided instantly with no bonus code input required.
Yet while joining bonuses and promotions are enticing, we don't recommend signing up with a broker because of these alone. Bonuses are restricted by many regulators and often come with strict withdrawal requirements.
Gems
Pocket Option also runs a points-based incentive offer, with rewards available based on trading activity. We like the fun element of this program, an interesting way for beginners to get rewarded as they build up trading experience.
Retail investors can essentially earn 'gems' which can then be exchanged for prizes. We found there are several ways to earn these rewards – by direct purchase, participation in a virtual lottery, selling gems in the online marketplace, or using social/copy trading tools. The lowest tier stone costs $2 if purchased directly.
You can exchange 'gems' for:
20% to 110% bonus
2% to 10% cashback
Additional balance value
Cancel losses against a trade
Trading Restrictions
We did not find any mention of trading restrictions during our Pocket Option review. Our experts don't see any reason that binary options hedging for instance cannot be used within a strategy.
Customer Service
Pocket Option scores poorly in the customer support department.
The broker offers telephone, email and live chat, which is a good selection, though it is disappointing that the live chat function is available to registered customers only. This is a notable drawback for prospective users.
There is also a community chat function, again for registered customers, which allows you to connect with other traders across the world.
There is no 24/7 support, though telephone contact is available daily from 10 AM to 2 AM (UTC +2).
To get in contact with the binary options broker:
Phone Number – +44(20)81234499
Email – Send a message via the 'Contacts' page
Community and Live Chat – Sign in to the client portal for access
Company Details
Pocket Option was established in 2017 and quickly experienced considerable growth, racking up 100,000+ registered customers from more than 90 countries by the end of the first year. By 2019, the brand had millions of registered traders.
The company has registered a headquarters office in Costa Rica and is currently unregulated.
On the downside, our team were disappointed by the lack of publicly variable information about the brand's owners and management team. The company does not operate with the same level of transparency as established CFD and forex brokers.
Trading Hours
Pocket Option trading hours vary depending on the asset class. We like the asset trading schedule by time zone, which is published on the broker's website. You can view all instruments' trade times by day including assets that are currently open to invest in.
For example, the EUR/USD currency pair is available to trade Monday to Friday 2 AM to 10:45 PM. Bitcoin, on the other hand, can be traded Monday to Sunday from 12 AM to 12 PM with no market closures.
Who Is Pocket Option Best For?
The Pocket Option platform is suitable for a good range of traders, with a wealth of features and tools such as bots, a demo account, copy trading, payout boosts, and rewards. Payouts are competitive and the terminal interface is easy to use. We think that this, together with the straightforward nature of binary options in general, makes this broker an excellent option for starting traders.
It will also be a good broker for traders who favour short-term strategies, since binary options suit these timeframes very well. The four-hour maximum contract length is quite limiting, but if you are set on intraday trading anyway, this shouldn't deter you from signing up.
FAQ
Is Pocket Option Legit Or A Scam?
Pocket Option is a legitimate binary options broker, offering services since 2017. The brand accepts clients from 90+ countries.
On the negative side, the firm is registered in the Republic of Costa Rica but is not currently regulated by any financial watchdog, so you will not have access to financial safeguarding initiatives offered by your local regulator.
Is Pocket Option Safe?
Pocket Option is a reputable binary options broker, but it is not regulated by any financial body, which reduces its overall safety score.
On a lighter note, the firm does comply with AML and KYC protocols, which aims to prevent fraudulent activities in the financial markets, and it is among the most popular binary options broker around.
Can You Make Money Trading Forex With Pocket Option?
Pocket Option offers very competitive payouts of up to 92%. The Express Trades function also offers boosted payout potential, combining the payouts of two or more contracts.
With that said, the all-or-nothing nature of binaries means you can lose your entire stake if the trade does not go your way. As such, spend some time in demo mode and use the educational content to improve your understanding.
Does Pocket Option Offer Low Forex Trading Fees?
Pocket Option does not charge any fees to trade forex. Instead, you will lose your bet if the market moves against you. The minimum trade is $1, so you can start small as you build up your confidence.
Is Pocket Option A Regulated Forex Broker?
Pocket Option is not regulated by any reputable financial body. Whilst common in the binary options space, it does mean the broker is not as secure as traditional, multi-regulated forex and CFD brokers.
Is Pocket Option A Good Forex Broker For Beginners?
Pocket Option is suitable for beginners. Registered customers can use educational content, a demo account service and copy trading services. The minimum deposit requirement is also low at $50 and there are plenty of opportunities to access improved trading conditions.
Is Pocket Option Legal In India?
You are permitted to open a Pocket Option account in India. It is included in the accepted countries list.
Does Pocket Option Have A Forex App?
Yes, the Pocket Option proprietary trading platform has mobile app compatibility. You can access the full catalog of account management and trading features. Alternatively, MT5 offers an iOS and Android (APK) mobile app.
How Long Do Withdrawals Take At Pocket Option?
Withdrawal times vary depending on the payment method – bank wire transfers, for instance, can take up to three working days. However, Master, Pro, and Guru account holders benefit from withdrawal priority. This is a good option if you are an active trader.
Article Sources