ZuluTrade

United States not accepted.
💵 Currencies

🛠 Platforms

MT4, MT5, ActTrader

⇔ Spread

| | |
| --- | --- |
| GBPUSD: | Broker dependent |
| EURUSD: | Broker dependent |
| GBPEUR: | Broker dependent |

# Assets

500+

🪙 Minimum Deposit

Broker Dependant ($100 Minimum Balance)

🫴 Bonus Offer

-
Our Opinion On ZuluTrade
ZuluTrade is one of the largest social trading networks, allowing users to copy experienced forex traders through different brokers. Standout features from our standpoint are the transparent performance metrics to help you choose from 90,000+ traders, including the risk score and win rate. We also find the simulator particularly useful for assessing the performance of traders over different timeframes.
Looking at the negatives, trading conditions and fees can vary between partner brokers. There is also limited formal vetting of traders, though ZuluGuard, which automatically monitors your account and stops copying if a trader deviates from their typical performance, helps to mitigate this.
Summary
Pros & Cons
Pros
Leaderboards with returns, followers and risk scores clearly displayed
Approximately 73% investors make money when copying traders correctly
Award-winning and multi-regulated social trading platform
Best-in-class risk management tools including ZuluGuard
Simulator can be used to compare multiple signal providers
Over 90,000 traders whose strategies you can follow
Partnered with multiple leading forex brokers
Free demo account with $10,000 in virtual funds
Accessible minimum deposit of $100
Beginner-friendly platform and app
Cons
Narrow suite of forex assets with around 20 currency pairs
Traders with irregular performance to watch out for
Trading conditions vary between partner brokers
Educational materials trail the top brokers
Limited formal vetting of traders
Is ZuluTrade Regulated?
Our team are comfortable with ZuluTrade's regulatory status, with licenses from European and Japanese regulators:
General Japan Investment Advisors Association (JIAA), license number 012-02360
Hellenic Capital Market Commission (HCMC) in Greece, license number 2/540/17.2.2010
With that said, the level of legal protection you receive will depend on the partner broker you sign up with. We recommend choosing a trustworthy, regulated broker to help protect your funds, such as AvaTrade.
Live Accounts
ZuluTrade offers a standard live account, but how you use the platform depends on whether you are a trader or investor:
Traders market their positions to investors and are compensated depending on the lot size traded.
Investors copy the positions of traders.
We have found that trading conditions also vary depending on the partner broker. For example, while you need a $100 minimum balance with ZuluTrade, you also need to comply with the broker's minimum deposit.
How To Open A Live Account
Getting started involves two parts. Firstly, you need to sign up with a supported broker, then you need to link your profile to ZuluTrade.
Once I had registered with a supported forex broker, the process for linking to ZuluTrade was simple:
Register on the official site
Enter your personal details including your name, email and country
Link to your registered broker and platform using the drop-down lists
Choose a pricing plan to access the firm's social trading network
Trading Fees
I like the easy-to-follow fee structure, which makes the platform a good option for newer traders. Investors either pay a commission depending on the size of trades or they pay a $10 monthly fee per trader they follow.
I appreciate the straightforward approach of the monthly subscription model, with discounts available if you sign up for a longer-term plan, including $8.30 for a 12-month subscription.
It is worth bearing in mind that there will be additional fees like spreads charged by the partner broker, which can widen in volatile market conditions. With this in mind, I recommend choosing a low-cost partner broker, such as AvaTrade, which offers tight forex spreads based on my tests.
The amount traders will earn depends on the lot size traded and the number of followers they have. For example, if investors trade in micro lots, traders will earn less.
Non-Trading Fees
There are no additional fees on ZuluTrade's side, which keeps things simple. However, some partner brokers may impose inactivity penalties and deposit/withdrawal fees, so I recommend checking this before signing up.
Vantage and Moneta Markets are good options if you want to avoid inactivity charges and payment fees.
Payment Methods
Again, deposit and withdrawal methods will vary depending on the broker you use, as do the fees and processing times.
With that said, in our experience at affiliate brokers of ZuluTrade, you can normally find most of the options below with no transfer fees and deposits within 24 hours.
Credit/debit cards (e.g. Visa and Mastercard)
E-wallets including PayPal
Bank wire transfers
Forex Assets
Unfortunately, ZuluTrade doesn't support the same breadth of currency pairs you can find at standard forex brokers.
Instead, around 20 popular majors and minors are available for copy trading, including EUR/USD, GBP/USD and EUR/GBP, though this may vary depending on the partnered brokerage.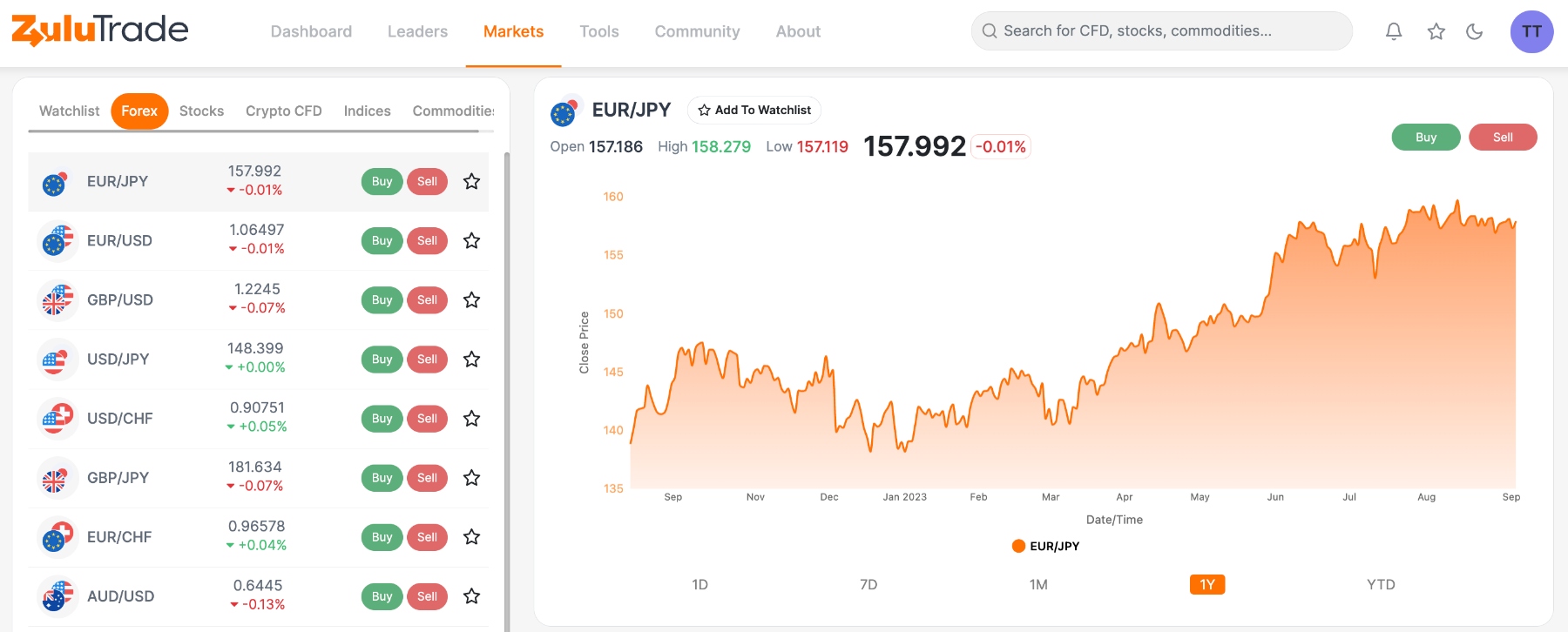 Non-Forex Assets
As with forex assets, the selection of additional instruments will vary amongst brokers. For example, during our tests, we found that some brokerages don't offer cryptocurrencies.
Yet while this will be disappointing for some, most investors use the platform to draw on the experience of other traders, rather than to seek the widest possible range of instruments, so this isn't a significant drawback in our view.
ZuluTrade offers copy trading on:
20 stock CFDs, including Amazon, Apple and Netflix
2 commodities, comprising gold and silver but no oil
5 crypto CFDs, including Bitcoin, Ethereum and Litecoin
8 indices, including the S&P 500, Nasdaq 100 and FTSE 100
We are pleased that the platform has also launched stock baskets, which are a collection of equities usually linked to a specific sector, such as air travel. This is a nice addition for investors interested in diversifying portfolios.  
Leverage
The leverage available when copying traders depends on your broker's limits. I recommend sticking to the 1:30 cap imposed by EU, UK and Australian regulators – this will help protect you from large losses.
I also recommend making the most of ZuluGuard. This is one of my favorite features and effectively monitors your account around the clock and will automatically stop copying if the trader's strategy or approach significantly changes.
Platforms & Apps
The ZuluTrade platform is available on Mac, Windows, online and mobile.
I like the design of the interface – it is easy to navigate and all the widgets and information are displayed in a clear, uncluttered fashion. It also houses all the information and data I need to decide who to copy, including:
Profit and loss
Description of trading strategy
Trading history and open positions
Average profit and percentage of winning trades
I also find the rankings of leaders useful. It shows who the top traders and signal providers are across various categories, including those with the highest amount of follower capital invested, maximum drawdown, and length of time trading.
Each leader also has a discussion feed on their page, which is useful for scrutinizing their strategy and seeing the comments of other investors.
The final thing I would pay attention to is the risk score which has a scale of 1-5, with 5 indicating the highest risk traders.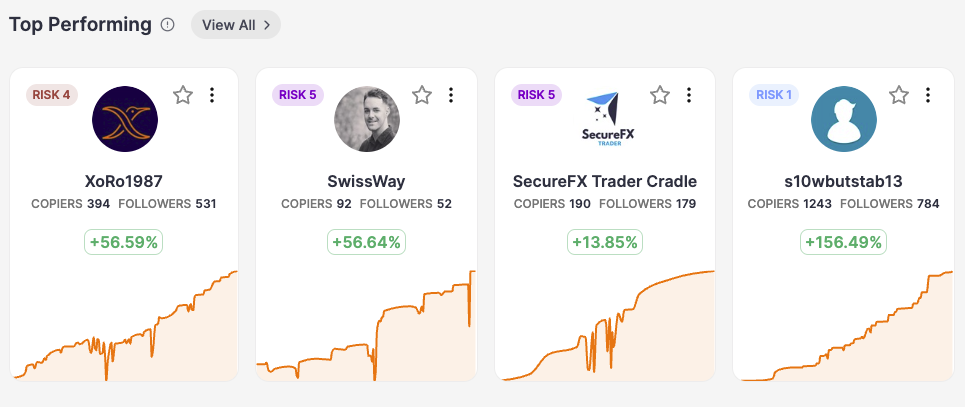 Although ZuluTrade is a copy trading platform, I can stop copying a leader and close existing positions at any time. This is important for me, as it ensures I still have control over my portfolio.
The social investing system also integrates with the following trading platforms:
ActTrader
X Open Hub
Match-Trade
MetaTrader 4 (MT4)
MetaTrader 5 (MT5)
Whilst platforms like cTrader and TradingView are not on the list, many of our favourite forex brokers use the industry-leading MetaTrader software, which have a browser version as well as a downloadable desktop application, making them highly flexible.
How To Copy A Forex Trader
I find the process of copying leaders on ZuluTrade straightforward. To get started:
Log in to ZuluTrade or through a partner broker
Find a suitable leader, considering your investment goals and risk appetite
Click to follow and decide how much you want to invest
Enter any advanced settings such as risk management functions
Press 'Copy Strategy' to start duplicating their forex positions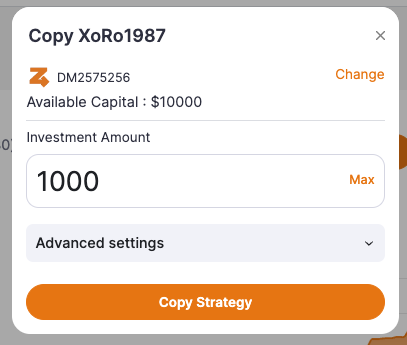 Trading Tools
One of my favourite features is the Simulator, where you can look at a leader's performance over a given period to see what their returns are.
This is particularly useful for comparing multiple providers. You can choose how much you would invest with each to see what your total profit and ending balance would be.
With that said, I would stress that this does not guarantee future performance.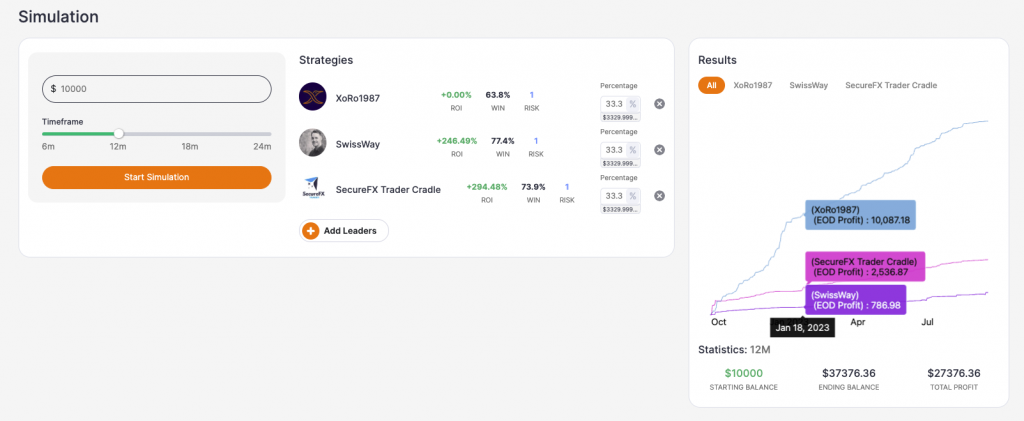 I also use features like The Automator, which allows me to set parameters for trades and receive alerts when there are significant changes in the market.
In addition, I recommend ZuluGuard, which can help protect your capital by automatically removing leaders when their strategy deviates from its expected loss profile. This partly helps offset the lack of thorough vetting among leaders. 

Also, remember that ZuluTrade is a social trading platform, so be sure to engage with posts in the community discussion forums if you want to learn from experienced traders. 
Forex Research
Although there are some news and market analysis articles on the official website, these aren't updated frequently compared to established forex brokers, such as eToro and XM.
However, given that most investors have come to the platform to entrust their funds with investors, this isn't a serious issue in our view.
With that said, our team finds that the Community section can still be a good source of information. You can follow hashtags to stay up-to-date with relevant topics and discover useful tips and tricks. Leaders can also be added to your watchlist so you can stay tuned with what they are posting.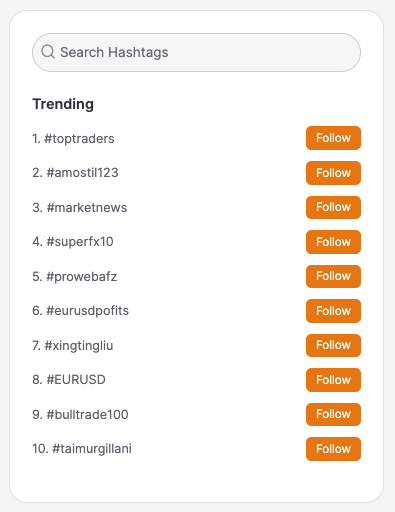 Forex Education
ZuluTrade doesn't excel when it comes to education. There are regular blogs, covering topics like the role of central banks in forex markets, plus a Followers Academy, which contains various 'how to' guides, detailing how to perform certain key platform functions. 
However, there is a lack of tutorial video guides on forex trading. These could all help beginners and can be found on other social trading platforms, such as eToro.
Demo Account
Despite not being a broker in its own right, ZuluTrade does offer a free demo account. This enables investors to get familiar with the platform and see which copy trading strategies suit their goals and risk tolerance. The demo account is also available to both investors and traders. 
My only criticism is that the platform limits the number of strategies that can be copied with paper funds.
How To Sign Up For A Demo Account
Registering for a demo account is easy and requires three quick steps:
Click 'Register' next to the moon icon on the homepage
Fill in your personal details or sign in with your Google account
Click 'Create Account'
Bonus Offers
There were no promotions available when we signed up for an account. With that said, some partner brokers may offer their own deals, from welcome bonuses to free copy trading.
Trading Restrictions
Although we did not come across any particular restrictions during testing, ZuluTrade recommends that leaders do not use scalping strategies. Some partner brokers restrict this system since it can distort the results for followers. 
Customer Service
There is 24/5 customer support available, with helpful staff. We tested the live chat and received helpful responses in just 2-3 minutes. Should investors experience any technical problems, we are comfortable that traders will get the support they need.
You can contact the social trading platform through:
Live Chat: icon in the bottom right-hand corner of the website
Phone: +30 213 011 7499
Email: support@zulutrade.com (no language restrictions)
There is also a series of user guides, with details on how ZuluTrade works, how to delete your account, how to become a signal provider and how it works when you open a signal provider account.
Company Details
ZuluTrade was founded in 2007 and is the largest social trading platform in the world. The number of users stands at over 1 million while more than 90,000+ traders can be copied on the platform.
The company's office headquarters are in Greece. It also has locations in Cyprus and Japan. ZuluTrade was sold to the Finvasia Group in 2021, which has offices in the UK, Australia and India.
The firm has won multiple awards, including Best Social Wealth Management Platform 2022, which is a reassuring sign that it offers a high-quality service.
Trading Hours
ZuluTrade's trading hours open on Sunday at 10:00 pm UTC and close on Friday at 10:00 pm UTC. These times are one hour earlier when Eastern time is in daylight saving. 
Who Is ZuluTrade Best For?
ZuluTrade is best for beginners and those looking for a hands-off way to invest in the forex market. There are no hidden fees, tens of thousands of traders you can copy, and the suite of risk management tools is almost unrivalled.
ZuluTrade is also a great option for social traders looking to collaborate with and learn from more experienced traders in a user-friendly platform and app. The community is active and you can use the hashtag function to follow topics that interest you.
Finally, the platform is a good pick for successful traders who want to generate an additional revenue stream by selling their strategies to aspiring investors.
FAQ
Is ZuluTrade Legit Or A Scam? 
ZuluTrade is a legitimate social trading platform established in 2007 with over a million users. The firm is also partnered with some of the most reputable forex brokers in the industry, including AvaTrade and Vantage.
Can I Trust ZuluTrade? 
ZuluTrade is a trustworthy social trading network regulated in Europe and Japan. It has a good industry reputation, multiple awards and effective risk management tools. The huge user base is also a reassuring sign.
Is ZuluTrade A Regulated Platform? 
Yes, ZuluTrade is regulated by the Hellenic Capital Market Commission (HCMC) in Greece and the General Japan Investment Advisors Association (JIAA).
Is ZuluTrade A Good Or Bad Platform? 
ZuluTrade is one of the best forex social trading platforms we have evaluated. The platform is well-designed and packed with useful features to help you find the right forex trader to copy based on your goals and risk appetite. The pricing structure is also transparent, with no hidden fees and low-cost partner brokers.
Our only minor complaints are the loose vetting procedures for traders and the narrow range of around 20 currency pairs.
Is ZuluTrade Good For Beginners? 
Yes, ZuluTrade is a great option for beginners. The platform is straightforward to pick up, there is loads of data available to help you analyze leaders and you can stop copy trading at any time.
We recommend rookies start with the demo account and simulator before risking real funds.
Does ZuluTrade Offer Low Trading Fees? 
ZuluTrade operates a subscription model, where investors are charged $10 a month for each leader they copy. This isn't the cheapest social trading service we have seen, but you can reduce this fee to $8.30 if you sign up for a 12-month subscription plan.
Alternatively, you can pay a commission on each trade. It is also worth taking into account any spreads and additional fees charged by partner brokers – selecting a low-cost partner like AvaTrade can help keep costs down.
Does ZuluTrade Have An App? 
ZuluTrade has a mobile app on iOS and Android that investors can use to open, edit and close trades. There are useful pages of account statistics, displaying equity, profit earnings, losses, ROI and performance charts.
How Long Do Withdrawals Take At ZuluTrade? 
This depends on the withdrawal methods supported by the partner broker and their processing times. 
Generally, we have found that you can expect e-wallets to be processed within 1-2 days, whilst bank cards and wire transfers can take up to 7 days.  
Can You Make Money Trading With ZuluTrade? 
If you follow a successful trader, you can make money copy trading at ZuluTrade. Equally, experienced traders can make money by marketing their trades to investors.
However, there is no guarantee traders will make returns and your capital is at risk.
How Do I Become A Signal Provider On ZuluTrade? 
You can become a signal provider, also known as a leader, in three simple steps. Head to the 'Leaders Program' area and click 'Join As A Leader'. Then complete and submit the online registration form. Once approved, you can start marketing your trades to investors.
Article Sources
ZuluTrade Hellenic Capital Market Commission (HCMC) License
ZuluTrade General Japan Investment Advisors Association (JIAA) License