GOFX

United States not accepted.
💵 Currencies

USD

🛠 Platforms

MT4

⇔ Spread

| | |
| --- | --- |
| GBPUSD: | 0.00001 |
| EURUSD: | 0.00001 |
| GBPEUR: | 0.00001 |

# Assets

28

🪙 Minimum Deposit

$1

🫴 Bonus Offer

$50 No Deposit Bonus
My Opinion On GOFX
I have spent weeks testing the services offered by GOFX, and this offshore broker has a few appealing draws, including very high leverage up to 1:3000 and a low starting deposit of $1.
However, I cannot recommend it as a top pick due to the limited trading tools and transparency. This, paired with the lack of credible regulation and unresponsive customer support, leaves me looking at alternatives, though traders in the broker's native Thailand may have better luck with GOFX.
Summary
Pros & Cons
Pros
The MT4 platform provides a stable and feature-rich forex trading environment
I rate the straightforward registration process with fast account approval
The $1 minimum deposit makes the trading accounts accessible
GopyTrade is good if you want to follow seasoned forex traders
You can trade forex with very high leverage up to 1:3000
Cons
Weak regulatory oversight and poor transparency lower GOFX's trust score
I could not get in contact with the customer service team during testing
The broker offers very little in terms of education or market research tools
Forex spreads trail the cheapest brokers based on my analysis
There are only 25 currency pairs with limited exotics
Is GOFX Regulated?
The regulatory status of a broker is one of my most important considerations, as strong oversight helps ensure that a firm treats traders fairly and safely.
In this respect, I feel GOFX's oversight by the Seychelles Financial Services Authority (FSA) under the registered trading name of TouchStone Markets Limited is subpar. I do not consider the FSA a robust watchdog with its minimal membership requirements.
As a result, traders may not be guaranteed segregated funds or access to compensation schemes in the event of bankruptcy.
If trading with a heavily regulated forex broker is important to you, I recommend one of the alternatives below.
Alternative Brokers for US
Forex Accounts
GOFX offers five account types, serving different trading styles. Four accounts are commission-free with spreads getting progressively tighter and each profile offering progressively lower leverage. The minimum trade size also increases as you move through the account tiers.
Based on my analysis, I would recommend that beginners opt for the GO-MINI or GO-LOW Spread solutions. GO-STANDARD is best if you want the highest leverage, while GO-PRO and GO-INTER are better options if you want tighter spreads and plan to place larger trades.
Importantly, I found that all five accounts have a $1 minimum deposit, which makes this broker accessible to new investors.
The same is unfortunately not true for the GOFX swap-free account. Although I was happy to see this account available for Islamic traders, I noted a much higher minimum deposit requirement vs the other profiles at $1000 plus a service fee. As a result, I don't recommend this broker for Islamic traders.
I have compared all of GOFX's accounts below.
| | GO-MINI | GO-STANDARD | GO-LOW SPREAD | GO-PRO | GO-INTER |
| --- | --- | --- | --- | --- | --- |
| Minimum Deposit | $1 | $1 | $1 | $1 | $1 |
| Minimum Trade Size | 0.01 lots | 0.01 lots | 0.01 lots | 0.1 lots | 1 lot |
| Maximum Trade Size | 100 lots | 50 lots | 50 lots | 50 lots | 50 lots |
| Spreads | From 1 pip | From 1 pip | From 0.6 pips | From 0.2 pips | From 0 pips |
| Commission | $0 | $0 | $0 | $3.50 | $0 |
| Service Fees | No | No | No | Yes | No |
| Leverage | 1:500 | 1:3000 | 1:500 | 1:100 | 1:100 |
GOFX Accounts
How To Open An Account
I found GOFX's registration process straightforward, and my request was approved instantly with no ID verification checks at the first stage and just a few easy steps:
Complete the fields on the online application form (name, email address, country, and telephone number) and hit 'Next'
Create a password on the next page and click 'Confirm Password Setting'
Press the 'Confirm Email' link sent to your registered email to be redirected to the client portal
Click 'Start Account' in the window pop out
Add your personal details on the first page
Review and agree to the T&Cs and hit 'Completed'
From here, use the side menu to choose 'Open New Account' and then 'Real Account'
Select your account configurations (account nickname, type, and leverage) and select 'Open An Account'
MT4 login credentials will be sent to your registered email address
Trading Fees
My tests show that spreads at GOFX are generally competitive, with even the highest 1+ pip floating spreads offered on the GO-MINI and GO-STANDARD profiles in line with much of the industry.
Importantly, for me, there is no reason not to recommend beginners choose the GO-LOW SPREAD solution given the equally low deposit requirement, zero commission fees, and access to the same level of leverage if needed.
There is a $3.50 commission on the GO-PRO account only, which is around the average of the brokers I have tested. However, with spreads from 0.2 pips, it is more expensive than forex brokers with spreads from 0.0 pips. If you want a cheaper raw spread account, I would choose IC Markets.
Non-Trading Fees
I cannot give this forex broker a good score for non-trading fees, as GOFX is not transparent about its charges. Despite contacting customer support, I could not clarify whether an inactivity fee applies to unused accounts or whether the broker levies a charge on some payment methods.
The only charge I incurred during my time using GOFX were swap fees, which are standard fees that apply to positions held overnight (non-Islamic accounts).
Payment Methods
After signing up with GOFX, I was disappointed by the range of payment methods available to me, with just a few on the table:
Credit/debit cards
Cryptocurrencies
Bank transfers
Skrill
My biggest gripe is the absence of local wire transfers and, especially, the lack of e-wallets, with no PayPal available for instance.
When I tried to make a payment with USDT I found the process to go smoothly with a straightforward funding route. However, I was disappointed to be quoted a timeline of one-to-three working days, as I expect crypto transfers to be near instantaneous.
How To Make A Deposit
I had no issues depositing to my trading account thanks to the straightforward process:
Sign in to the customer portal
Click 'Transactions' from the left menu and then 'Deposit'
Choose a payment method from the list
Input the payment details, in this case, account number, and deposit amount
Tick to agree to the T&Cs and hit 'Confirm'
Forex Assets
I was disappointed with the number of currency pairs offered to GOFX traders. The instrument list is extremely narrow (25+), which is just half the 50+ pairs I expect from good forex brokers like XM.
I also found that the GO-MINI account does not provide access to the full suite of instruments, which narrows investment opportunities even further and – for me – makes this account type a poor option.
That being said, I was pleased to see many popular currency pairs available:
| Forex Pair | Available | Forex Pair | Available |
| --- | --- | --- | --- |
| EUR/USD | Yes | AUD/USD | Yes |
| GBP/USD | Yes | USD/JPY | Yes |
| EUR/GBP | Yes | USD/CHF | Yes |
| USD/CAD | Yes | EUR/AUD | Yes |
| NZD/USD | Yes | AUD/NZD | Yes |
Availability Of Key FX Assets
Non-Forex Assets
I value forex brokers that offer a broad range of alternative instruments, as they can be used to spread risk. In this respect GOFX looks good at the outset, with its website promising 1200+ products – however, disappointingly, I was offered far fewer instruments during my weeks of testing, with just a handful on offer from four asset classes.
This is one of several important areas where I feel the broker lacks transparency or presents misleading information to customers.
After logging into the platform, I discovered that you can speculate on:
Indices: 15 stock indices such as the S&P 500 and AUS 200
Shares: 30+ popular stocks including Apple, Netflix, Google, and Disney
Commodities: 2 precious metals and 2 energies including gold and Brent crude oil
Crypto: 7 crypto to USD pairs such as ETH/USD and BTC/USD
Execution
I was pleased to find that GOFX utilizes ECN technology for its GO-PRO account. This is favored by high-volume forex traders, as it typically offers fast execution speeds while also removing potential conflicts of interest generated by 'dealing desk' intervention, instead linking retail investors directly with liquidity providers.
Unfortunately, there is limited information available about the execution model for the other account types, and I feel that again the broker lets its clients down in this respect due to a lack of transparency.
Leverage
During my tests, I found leverage to be another area where GOFX leaves traders with a lack of clarity. The broker is open about the differing amounts of leverage extended to each account type. However, when I reviewed the terms and conditions, I found that leverage is also limited depending on the trader's account balance – the full 1:3000 leverage is only extended to traders with the smallest account balance.
| Balance | Leverage |
| --- | --- |
| < $999 | 1:3000 |
| $1000 to $1999 | 1:2000 |
| $2000 to $9999 | 1:999 |
| $10,000 to $19,999 | 1:500 |
| $20,000 to $49,999 | 1:400 |
| $50,000 to $199,999 | 1:200 |
| > $200,000 | 1:00 |
Leverage By Account Balance
Importantly, I recommend beginners approach leveraged trading with caution. These rates are much higher than the 1:30 available at tightly regulated forex brokers, and seriously increase the risk of large losses.
Platforms & Apps
A stable, feature-rich and powerful trading platform is one of my biggest priorities when I trade, and thankfully GOFX's support for the popular MetaTrader 4 (MT4) meant that I enjoyed my time using this forex broker.
The platform can be used as a desktop download or mobile app, which I find offers a seamless transition between devices.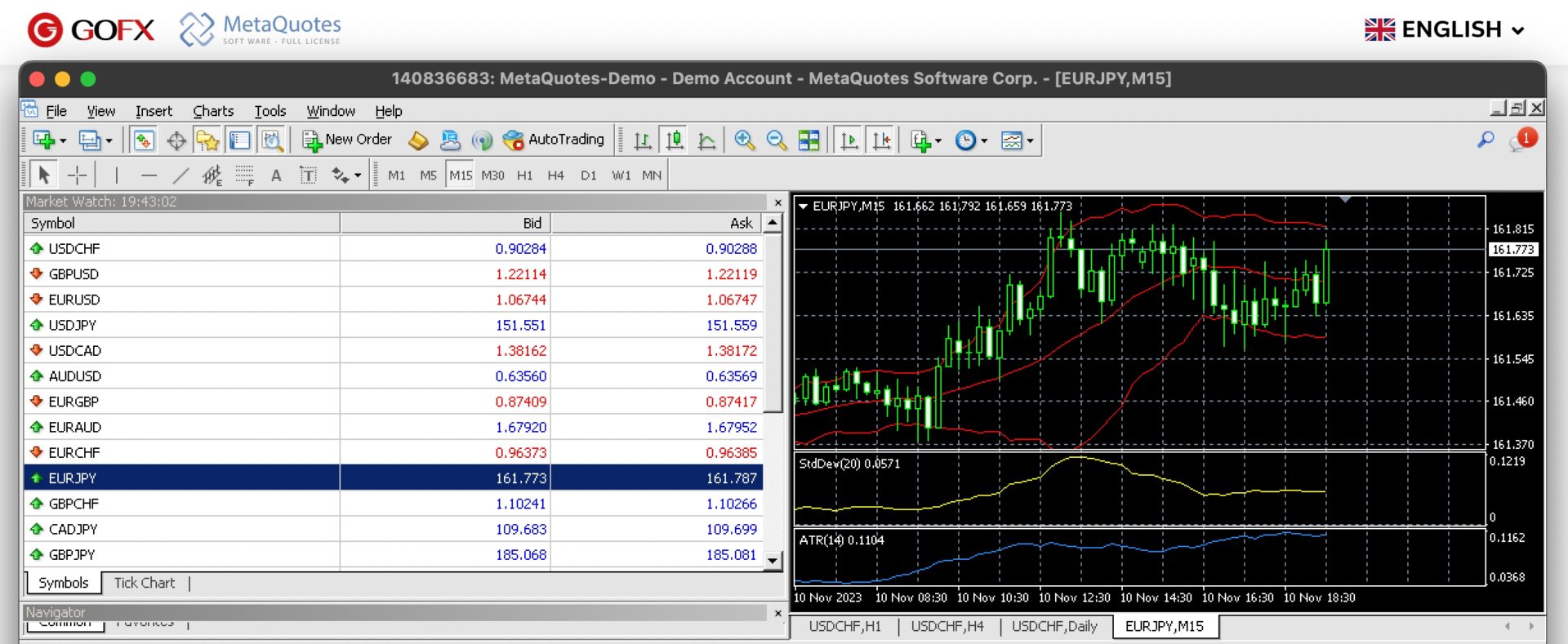 My first-hand experience trading forex on MT4 has been excellent – I like the customizable interface, with analytical tools and intuitive features.
My one complaint about this market-leading terminal is that it has aged considerably in the nearly two decades since its release, and for new users the dated screen may seem a little off-putting. As a result, it would have been great to see at least one alternative platform.
The standout features in my opinion are:
One-click trading permitted
Automated trading via Expert Advisors (EAs)
Three chart types with nine timeframe views (1 minute to 1 month)
30+ integrated technical indicators and 24 drawing tools
MetaTrader Market with thousands of additional indicators, signals and tools
How To Make A Forex Trade
I find it easy to open and close forex trades on MT4 in a few straightforward steps:
Choose a currency pair to trade from the menu on the left side
Right-click on the instrument and choose 'New Order'
Add your trade details to the order ticket (order type, volume, and stop loss or take profit)
Confirm the order by choosing 'Buy' or 'Sell'
Forex Tools
In terms of forex trading tools, GOFX has missed the mark as far as I'm concerned. There's simply very little to recommend here, with no access to third-party tools such as Autochartist or TradingView for advanced charting.
For me, these are value-add factors when choosing a broker, as these tools can assist with trade formation and ideas.
I am somewhat reassured, though, that the broker offers a proprietary copy trading service, GopyTrade. I think it's a good platform for novice traders looking to benefit from the expertise of experienced investors.
While testing this tool, I was particularly pleased with the transparent performance statistics, allowing clients to easily find a suitable trader to mirror.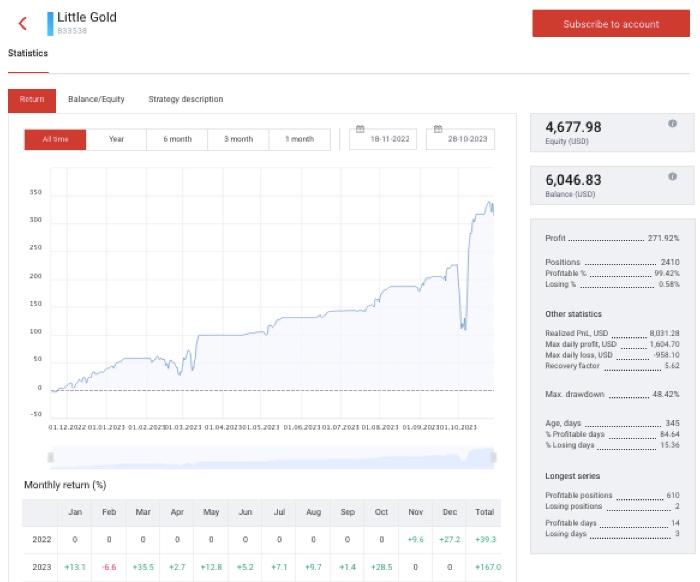 The service is certainly not as advanced as the likes of eToro, but I think the broker has done a reasonable job of providing a useful solution.
My first-hand experience using GopyTrade found that minimum investment amounts and fees vary between registered traders, typically with an average 70/30 profit split.
Forex Research
I don't feel GOFX has pulled together adequate forex research resources, and this was one of the things I missed most during my weeks with this broker – there is simply not enough there to match the wealth of personalized expert commentary offered by brands such as Pepperstone.
Instead, GOFX traders are limited to a page with integrated Trading Central bulletins and trade ideas. These can be drilled down into popular FX pairs, timeframes, and trend directions which I find somewhat useful.
On a lighter note, I like that economic news bulletins can be sent to your registered email address to keep up to date with market movers, though this is standard fare and I found the news report lacking compared to eToro's in-depth daily newsletters.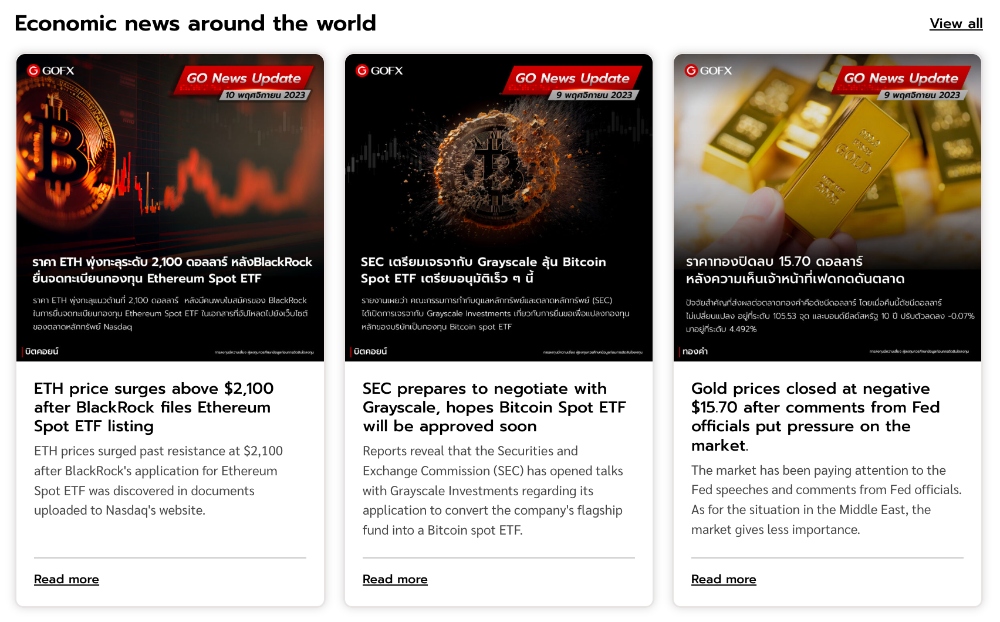 Forex Education
GOFX offers virtually no educational resources, which is a big downside for me. I feel this makes the broker a tough sell for beginners, especially when alternative providers such as CMC Markets provide a comprehensive academy, with trading guides, webinars and a Learn Hub.
Demo Account
I consider demo accounts a minimum stipulation of all good forex brokers. Not only ideal for beginners, practice profiles offer a risk-free environment for well-versed traders to put strategies to the test.
So, I was pleased that GOFX offers a demo account with a virtual balance of up to $100,000 and leverage up to 1:3000.
Importantly, given this broker's lack of transparency in many areas, the demo account is where I would start if I was new to forex trading.
How To Open A Demo Account
GOFX's demo account sign-up follows on from registering for a live account – you will need to start opening a real-money account first and choose 'Demo Account' from the side menu during the process.
It's quick and easy – taking me less than 5 minutes.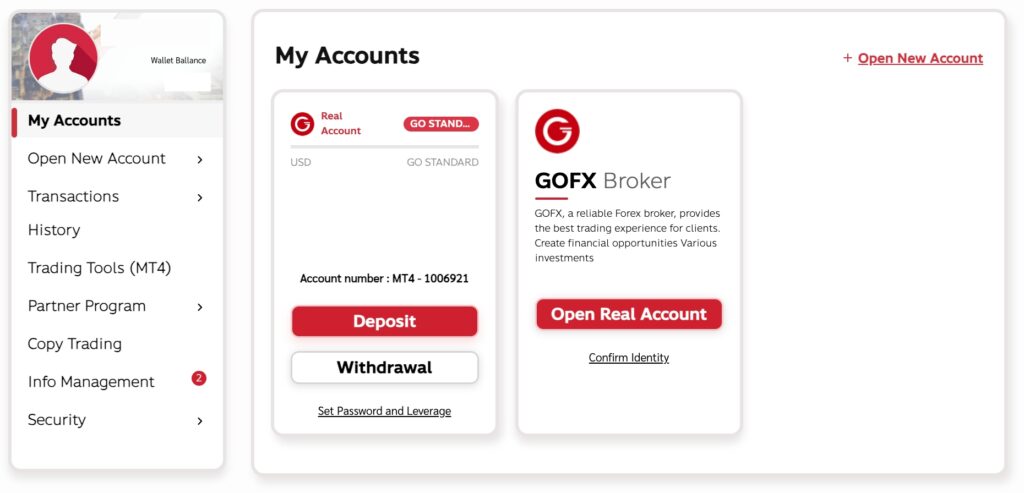 Bonus Offers
I know offshore-regulated brokers are not shy when it comes to offering bonus rewards, and GOFX is no exception.
When I signed up, I was offered various bonuses including a $50 welcome reward, a birthday bonus, and a 30% monthly credit. Additionally, a loyalty scheme is offered to all investors to earn points on executed positions.
These are attractive rewards, though on further inspection I found that the terms and conditions will make it difficult for many traders to take full advantage. I explored the $50 welcome bonus in-depth and found that a minimum trading volume of 15 lots must be completed within 30 days to receive the credit – fairly steep requirements for many aspiring traders.
Trading Restrictions
When I signed up with GOFX, I found that hedging is not permitted on any account type. This strategy is used to offset risk by opening a position in an alternative asset class or instrument that balances the chance of losses, and it's a shame to see it off the table for traders.
Customer Service
GOFX advertises 24/7 customer service via live chat, email, and telephone. As part of my review, I attempted to put the chat service to the test on several occasions; however, I was not able to reach a customer service agent on any attempt.
This is a shame and it really lowers the rating I have given GOFX's – good customer service is crucial for me as someone who's experienced the headache of trying to resolve a trading dispute with an unresponsive broker.
If having access to a reliable and responsive customer support team is important to you, then I recommend one of the alternatives below.
Alternative Brokers for US
Company Details
GOFX is a multi-asset broker that is overseen by the Seychelles' FSA. As well as a presence in the Seychelles, the company is also registered in Saint Vincent and the Grenadines.
My research uncovered that the brokerage has been recognized with several awards, including the 'Fastest Growing Broker' at the 2021 World Forex Awards. Yet despite some accolades, the lack of transparency around the history of the company and management team raises legitimacy concerns for me.
Trading Hours
GOFX follows standard market opening times, with FX available to trade 24/5. The platform is open Monday 4 AM to Saturday 4 AM (Thai time).
Who Is GOFX Best For?
Based on my testing, I would recommend GOFX for Thai forex traders looking for very high leverage and bonus incentives. Trading materials, content and support are all available in Thai.
It is also a reasonable choice if you are already familiar with the MetaTrader 4 platform and app.
FAQ
Is GOFX Legit Or A Scam?
Whilst GOFX appears to be a legitimate forex broker, the lack of transparency and weak regulatory oversight do raise some concerns for me. It is not as credible as leading forex brokers in my view.
Can I Trust GOFX?
I don't think GOFX provides the most trustworthy service. This is due to the lack of transparency in certain areas, the unresponsive customer service, and the lack of top-tier regulation.
Is GOFX A Regulated Forex Broker?
GOFX is a licensed securities dealer, authorized by the Seychelles Financial Services Authority (FSA).
Is GOFX A Good Or Bad Forex Broker?
I don't consider GOFX an excellent forex broker due to its narrow range of 25 currency pairs, offshore regulation, lack of education and tools, plus subpar customer support.
It redeems itself somewhat with its $1 minimum deposit, choice of accounts and high-quality trading platform, but it trails the best forex brokers.
Is GOFX Good For Beginners?
Based on my first-hand experience, I wouldn't say GOFX is a good forex broker for beginners. The lack of educational resources lets the brand down significantly, and traders can't expect help from the customer support team if an issue arises.
Does GOFX Offer Low Forex Trading Fees?
My analysis shows that GOFX offers average trading fees. Spreads vary between accounts, starting from 1 pip on the GO-MINI and GO-STANDARD profiles. The GO-INTER account provides the tightest spreads, from 0 pips.
Does GOFX Have A Forex App?
GOFX does not have a proprietary mobile app. That said, MT4 does have iOS and Android mobile app compatibility. I can access all trading functions on the MT4 app, including custom charting.
How Long Do Withdrawals Take At GOFX?
GOFX aims to process all withdrawal requests within two working days. This is reasonable but not the fastest processing speeds, with some forex brokers offering same-day withdrawals.
Can You Make Money Trading Forex With GOFX?
It is possible to make money trading forex with GOFX if you have the skills and knowledge to make the right trading decisions.
However, it is important to understand that many forex traders will lose money. As a result, make sure you have a risk management strategy and only invest what you can lose.
Article Sources